Multi-language website: how to prep your website for handling multiple languages
Before translating your website into multiple languages, you'll need to review your existing content and perfect your language strategy for each market. Beyond that, elements not visible on the page must also be optimized to avoid technical issues. So, what should you include in your research and preparation? Read on to discover the steps to take when going multilingual.
Consider your website design
Since users will only stay on a page for a few seconds, following best practices for multilingual website design in the target markets is crucial. Here are some important factors that impact user experience:
Colours and images
Will all the images and graphics on the page be recognized and culturally relevant? Avoid visuals that may leave the wrong impression.
In addition, separating any embedded text also makes the localization or transcreation process easier. Ask your design team to extract the text from visual content so that it can be adapted. Using a file format with layers helps avoid extra work when finalizing localized graphics.
Language/country selection
Your design must also clearly display the website's language selector. A globe icon (or pin for country-specific sites) at the top or bottom of the page is easy for visitors to find.
The two examples below show the difference in user friendliness.
The link on the Coca-Cola France website to change locales is in French with no icon, and all country website options are listed in English.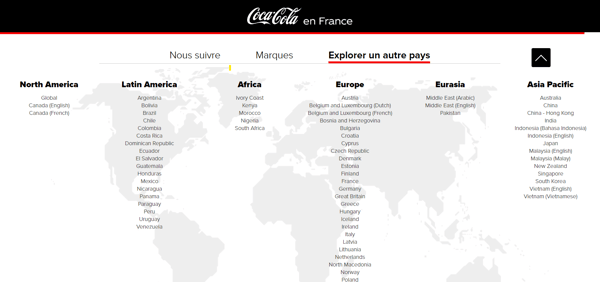 Microsoft's locale switcher is easier for visitors to navigate. There is a globe icon on the bottom left, which directs you to a menu listing the countries and languages in the target language.
Optimize your code
One of the most vital steps when internationalizing your website is properly adjusting your website code for localization. Internationalization (i18n) prepares the code for localization, meaning the website can be fully adapted to specific audiences.
Thanks to i18n, you can:
Separate translatable content and placeholders
Enable Unicode to display special characters
Allow different layouts and products to be shown to different markets
Prevent hard-coding so that all translatable strings can be extracted and edited
Support right-to-left and bi-directional text
Allow data and settings to match local conventions (e.g., number formats, forms of address)
Elements in the code that are not visible on the page, such as meta descriptions and alt texts, should also be adapted. Doing this with keyword research also helps your SEO rankings. Don't forget to add the appropriate hreflang tag to avoid being penalized for duplicate content.
Focus on relevant pages
One advantage of localizing your site is that you don't have to include all pages to see significant ROI. You may even offer a selection of products or services for global customers. To select the right pages for your chosen languages, understanding the demand and competitive landscape in each market is key. Ask yourself:
Will the pages I want to localize gain traffic from my target markets?
Is the information relevant to their locale?
Will the localized page help achieve my business goals?
Tip: Get data from your marketing team to see which pages generate the most traffic and revenue for each market. You can always add more content as needed.
Analyze the source content with a site audit
In order for your website to be error-free and consistent across all versions, you'll need to check your source content.
When it comes to content structure, clarity is key. Look at how information is presented. Can visitors understand the main message without scrolling? The page must be easily digestible with headings, short paragraphs and bullet points. Ensure that navigation is straightforward and that any button copy gives a clear action. Auditing before localization helps build a solid foundation for the entire process.
Clearly define your localization standards
Create useful documentation and resources, including editorial style guides, to guarantee consistency for all markets. Using a translation memory and other tools, such as term base glossaries, decreases the work required as the site gets updated.
These materials are also handy for onboarding and saving time. A new team member or language service provider can immediately understand your objectives and brand-specific requirements.
Prepare for automation
With large amounts of content in different languages, a streamlined localization process is essential. Find the right content management system (CMS), application programming interface (API) integrations and connectors so updates and modifications are as smooth as possible. At this stage, you'll also want to get an idea of how often your site will need updating and maintenance. Determine a schedule and inform your localization team, especially if there are any special requirements (e.g., a faster turnaround for campaigns).
Carry out pre-localization testing
Localization prep must be in-depth and look at web development and all layers of content. Custom fields, forms, hard-coded strings, multimedia content, etc. can slow down the process or leave gaps when the content exported for translation is sent back.
Running tests before starting to ensure everything can be localized is essential. For example, pseudo-localization adjusts all translatable text elements to match the typical character counts in the target language. This gives developers an idea of how to adjust the layout in case of text expansion and highlights anything that's been missed during internationalization.
Creating a multi-language site is a collaborative effort. Ensure your developers and engineers understand their role in creating a functional multilingual website. Teaming up with language specialists makes the site easier to localize and linguistically accurate from the very beginning.
Do not skip preparation
Preparing for localization covers all the bases and helps create a local customer experience. What's more, everyone involved stays informed and has a clear idea of the scope. This intricate process requires knowledge of the culture and language that speaks to your new potential customers. Working closely with website localization experts early on will ensure that your business achieves its goals.
Create a multi-language website with a localization partner
If you're ready to set up your multilingual website, Attached can help. Our consultants can tell you more about your target markets, determine which services/products best suit their needs and how you can communicate with them effectively.
For an initial check-up and tips to improve the content on your existing web pages, request a pre-localization audit.
In the meantime, take a look at our guide on multilingual websites as well as our range of solutions. Got any questions about your website? Send your queries to our team.
---