Home
Lindsay Coghill
We have happily added a Canuck to our ranks. Our newest Localization Project Manager, Lindsay Coghill from Canada, joined us in January, acclimating remotely and meeting most of the team through video calls.
Two-and-a-half years ago, Lindsay decided to make a change and move from her native land to the Netherlands. With no concrete plans and what was supposed to be a post-university gap year, the Lowlands turned into her new home."I'm very excited to be a part of such a creative and enthusiastic team!" Lindsay says.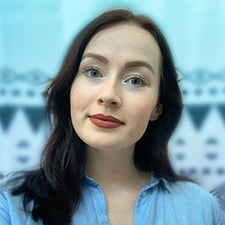 "One of the great things about working with Attached
is that even when working remotely, there's always
someone there to offer help."
At an early age Lindsay developed a love of reading fiction and its power to create such immense imagery using language. This inspired her to specialize in English literature and history in university and ultimately to join our team as a Localization Project Manager.
Being able to begin this new adventure and combine it with her passion for language and culture makes Attached the perfect fit. She also provides extra insight about Canadian markets that correspond with our office in Toronto.

A huge bonus!
---